Welcome to another Tuesday of SEW Organized craft room ideas!  If your new join me every Tuesday for a craft room project, you can see all the previous craft room ideas here.
I spend every weekend at garage sales and thrift stores..a post on that coming up.  I love a bargain!  I found this tray at Goodwill for $9.99.  That's a little more than what I usually spend, I'm used to paying .50 cents or 1.00 but I had been wanting one of these for awhile so I went ahead and splurged.
I turned the tray into a mini-ironing board for my craft room.  It takes up less space than a regular ironing board and I can leave it sitting out without the hassle of getting it out and putting it away every time I just need to iron a small crease.
Supplies Needed:
Batting
Fabric
Wood nails or a staple gun
Hammer
Hot glue gun
* Update:  If you place a piece of heavy duty foil on the tray before adding the batting it will draw in the heat making it easier to iron out creases.
I cut 2 pieces of batting and one piece of fabric the size of the tray plus allowed extra about 1 1/2 inches on each side to allow enough extra fabric to fold over and under the bottom of  the tray.   If I did it over again I would have hemmed the edges first for a nice finished look.
I then used small wood nails and nailed the fabric and batting to the back of the tray.  You can also use a staple gun.  Then I hot glued the raw edges to the tray so they weren't hanging down.
Let's keep in touch and never miss an update!
This has been featured at these great sites: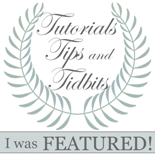 If you enjoyed this post please give it a like. 🙂
Linking to these great parties.