I am so excited to bring you a guest post today from Gina @ Kleinworth & Co. She is so sweet and I just love her website! She bakes the best recipes and they always look fantastic! That's because she is a professional photographer. (She doesn't know this but I've been stalking peeking at her photo's for a few photography ideas!) All her photo's are just gorgeous and her recipes sound so yummy. She offers professional photography and mentoring workshops for beginner and intermediate photographers. If you are interested in learning new professional tips and tricks and how to make your photo's stand out, stop by and get all the details of her workshop here.
She also makes beautiful crafts! Today she is sharing her Blessed Fall Sign. She is truly blessed with all her talent!
Hi everyone! I'm Gina from Kleinworth & Co. & I'm so excited to be here posting in Marti's creative space today.
Today I'm sharing this Blessed Fall Sign I created for the holidays to decorate our home.
Just down the road from us is a modular home manufacturing facility. They put 4 large bins in their parking lot that they fill full of scrap wood with a big sign that says "free". It's a crafters dream I tell you. So every couple weeks the kids & I load in the van & head on over to see what we can find to fill my scrap bin that I keep for projects. It's really great for me because one thing that I really like to do is paint signs of all sizes as seasonal decorations. It's so simple & depending on the size- it can make a huge impact. You can see what I mean in the picture of my Fall Porch I shared HERE.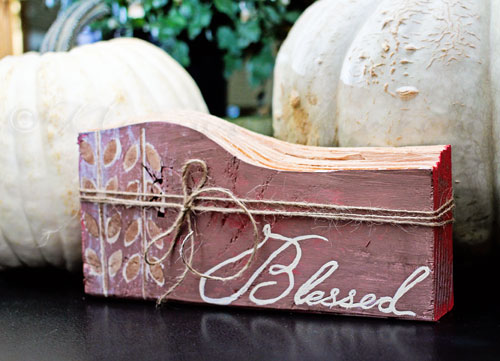 For this I just chose my piece – this one because of it's shape. I put several base coats of paint & then dry brushed some other colors on top to give it a more worn & rustic look. Then I stenciled on some leaves overlapping colors to again- give it a worn look. Then I created my letters in Photoshop – this could also be done in Word. Once I got the font & size the way I wanted I printed & cut the paper to size. Then I placed it on the block & drew over it with a ball point pen to indent the wood. Removed the paper & painted in the lines. Once it was dry I added the twine for extra dimension. The whole thing was done & dry with in a couple hours. Not too bad.
For more paint inspiration – you can check out my previous projects.
Thank you so much Marti for sharing your space with me today. It's been a pleasure!
About: Gina is a mom to 3, wife to a fire chief, photographer & homeschooler. She recently relocated with her family to Northern Idaho after 12 long years living in various parts of the Nevada desert. Gina is a Southern California beach native & enjoys food photography, blogging, baking & getting crafty with re-purposing & up-cycling on a budget.
You can connect with Gina via Blog, Twitter, Google+, Instagram & Pinterest